With Visit Wales' Year Of The Sea underway it brings to mind the topic that's high on everyones agenda at the moment…………. single use plastic. #PlasticFreeSnowdonia is a campaign pioneered and launched this year by the outdoor adventure company Breese Adventures who are based here in Betws-y-Coed.
The aim is to bring together local tourism businesses who want to see less plastic used (and discarded) in one of the most beautiful areas of the UK, and in turn helping them raise awareness with all the guests who stay or visit North Wales the damaging effects that single use plastic has in the environment.
The Stables Lodge has installed a chilled filtered water system in the reception area for guests to use and refill their own flasks & bottles free of charge. (Royal Oak residents are also completely welcome to hydrate and fill their boots!)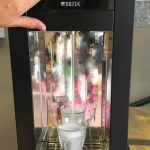 The VIVREAU water system from Brita is also an ecological choice – it's mains fed, filtered and chilled onsite – giving you completey fresh Wonderful Welsh Water without any impurities whatsoever. There's also the added ecobonus of not needing to transport bottled water which means fewer lorries on our roads – we're hooked and hydrated ?
Talking about environmentally friendly… … The Stables Lodge room toiletries are also an ecological choice – with not a single use plastic bottle in sight! We use refillable toiletries and non-plastic wrapping in the Lodge bathrooms. All our lightfittings are LED too so no nasty filaments emitting heat – did you know that 95% of LED light energy goes to producing the light source with the remaining 5% being converted to heat. Traditional fluorescant lights emit 5% light and… yes that's right… a whopping 95% heat!
So if your exped to Wales includes environmental adventuring then the Stables Lodge is committed to #doingourbit
To find out more about #plasticfreesnowdonia and how you can help reduce your plastic footprint check out the Breese Adventures webpage: https://www.breeseadventures.co.uk/plastic-free-snowdonia/