We're always on the lookout for talented passionate people who want to work in a dynamic, rewarding and interesting workplace
Do you have a passion for delivering outstanding hospitality?
Are you talented, confident and driven?
Do you have exceptional interpersonal skills?
Do you want to learn as you earn?
Then let's talk…
We offer an open and fun working environment across all our sites where each and every one of our team members feels valued, trusted and empowered. We'll give you full training and support when you join us, we really know the value of teamwork and delivering great hospitality no matter what department you join.
We encourage all our colleagues to achieve their career goals and aspirations – we offer ongoing training, development and flexible working patterns for part timers – so you can fit your extra studies, childcare or volunteering in around work schedules.
And most important of all we provide a fun, dynamic place to do it in, we can also play as hard as we work! We're a diverse, inclusive and experienced bunch,who are proud of each other's achievements and supportive to an extreme. It's no exaggeration to say that we really are like a big family.
Want to learn more? Join our apprentice scheme
We offer full on the job training so you can earn whilst also gaining qualifications. Our apprenticeship schemes will develop your skills in specific key areas which not only open up career prospects with us but also are valued by employers worldwide. Apprentices usually work in a specialised area but we can also tailor your training so you become multi-skilled in all aspects of running a hotel. As you progress there will be opportunities to work at other venues within the company or to specialise in an area which you have a passion about.
Unsure Hospitality is for you?
We have Intern Days where you can spend a day shadowing one of our team members, pick up ideas and see what it's really like to work in a fast paced exciting environment. Or read what our team members have to say about their experience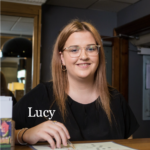 We believe that it's all about the team, that we all have different skills to contribute to make the whole business successful.
Interested in joining and becoming a part of our team? Then get in touch – email✎, snail mail ✉︎ or give us a call ✆