Our plan for re-opening, our team's welfare and your safety
A message from our Managing Director:
Hello Everyone,
I really hope everyone has managed to stay safe and well during this extremely difficult time.
Life has changed for us all over the past few months and we, like you, have been doing our best to navigate the new 'normal'.
We closed our doors in line with the Government directive back in March along with the rest of the hospitality industry to keep our staff and guests safe.
Welsh Assembly Government have indicated that if it is safe to do so they will allow us to partly re-open as of the 13th of July.
We have been working hard behind the scenes to make sure we have safe and robust systems in place which puts your and our teams safety & welfare first.
We really can't wait to welcome you all back and whilst observing our stringent safety measures, we aim to create the same hospitable atmosphere and warm Welsh Croeso that we have always hoped to deliver.
During this period of transformation into the new Normal your feedback and engagement will be welcome at all stages going forward.
And may I take this opportunity on behalf of all of the team, to thank you and everyone in our local community for keeping Betws-y-Coed safe during this unprecedented time.

All the very best
Glenn Evans
---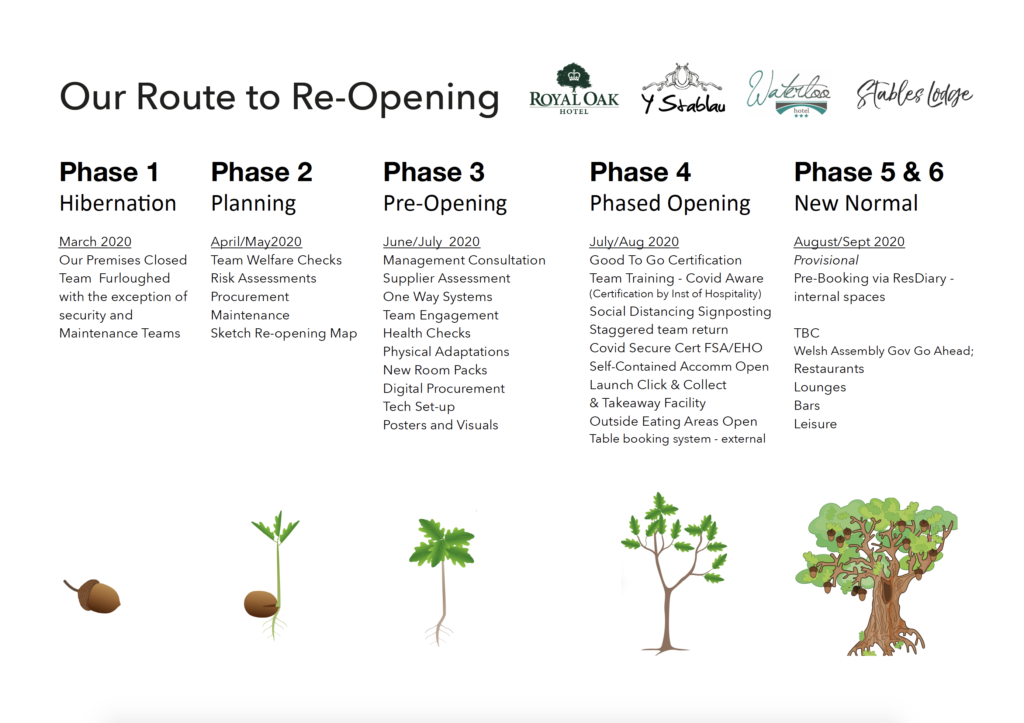 FAQ's
When will I be able to stay?
We are taking new hotel bookings from Monday 13th July onwards, but please be aware that this is conditional and subject to change by Welsh Assembly Government.
Initially, we do expect that the phone lines will be busy and our Reservations team will be doing their best to respond to all enquiries as soon as they can, but we do suggest that where possible you make your hotel booking on our online system
Can I book a Table?
Not at the moment – breakfast will be delivered to your room. Currently we are only able to open self-contained rooms with no shared facilities. Our onsite Stablau Bar is operating a Click and Collect service for evening take away and we are looking at offering an outside dining facility inline with new instructions from the 13th of July – although this is still very much a changing tide in Wales – we will update this page as soon as we have more information.
What else is open?
Attractions in Wales are allowed to re-open from the 6th of July so there will be plenty to do in the area. Please remember that most activities and attractions will be pre-bookable only so also book your favoured activity time slot – we're working on a list of what's open and where, and will forward this information as soon as it's collated.
What should I expect when I visit?
Your arrival experience may look a little different in this new normal, but we hope it will feel the same; ultimately, it will still be our people caring for you and delivering the same attention to detail and personalised hospitality that you are used to at The Royal Oak. We want to reassure you that we're putting measures in place to keep you and our teams safe so that you can confidently enjoy a stay with us. Were taking everyone's temperature before they enter the building to keep you and our teams safe.
We're still shaping the finer details, and as soon as we're able, we'll get as much information out to you all about your upcoming bookings, new booking enquiries and what visiting us might look like.
What type of changes will I expect to see?
We're implementing one way systems, clear screens at reception areas, looking at non touch entry arrival, updating information packs to be viewed online, contactless payment systems, app ordering, and temperature checks to name but a few.
What have your team been doing?
We've been in regular touch with our team members during lockdown. Ensuring they are informed and kept up to date with any developments. All team members will have to undertake a Covid Aware Certificate Module accredited by the Institute of Hospitality before returning to the workplace. As well as for your safety, our teams welfare and heightened knowledge is of paramount importance to our business.
How will I know if any changes are made?
As we hear the latest Government directives, we'll update all our pre-arrivals with email communication to provide additional information relating to health and hygiene.
What extra cleaning is taking place?
As a hotel with restaurants, we already operate with strict cleaning and health and safety measures, but we will now be taking extra steps to ensure that all areas are thoroughly sanitised, clean and compliant.
• All team members will be trained in these new standards and timings of cleaning.
• Early Check In wont be available to allow for enhanced cleaning procedures in guest bedrooms.
• We provide hand sanitiser on entry points and at various points through the building.
• We are working with the AA and their Covid-19 Safe Scheme
• We have implemented enhanced cleaning in corridors and at all touch points.
• We have issued team members with additional PPE to keep both them and you safe.
What about social distancing?
We love our building being old and quirky but this does cause us a few extra problems to overcome. Luckily we have some very clever Health and Safety minds in our business who have come up with simple effective ideas like mirrors at the end of corridors, and non touch corridor lighting.
We'll ask all our guests to use their common sense and be responsible for their own social distancing during their stay when moving around the hotel. And we'll be looking for additional ideas and listening to any further comments you have during and after your stay.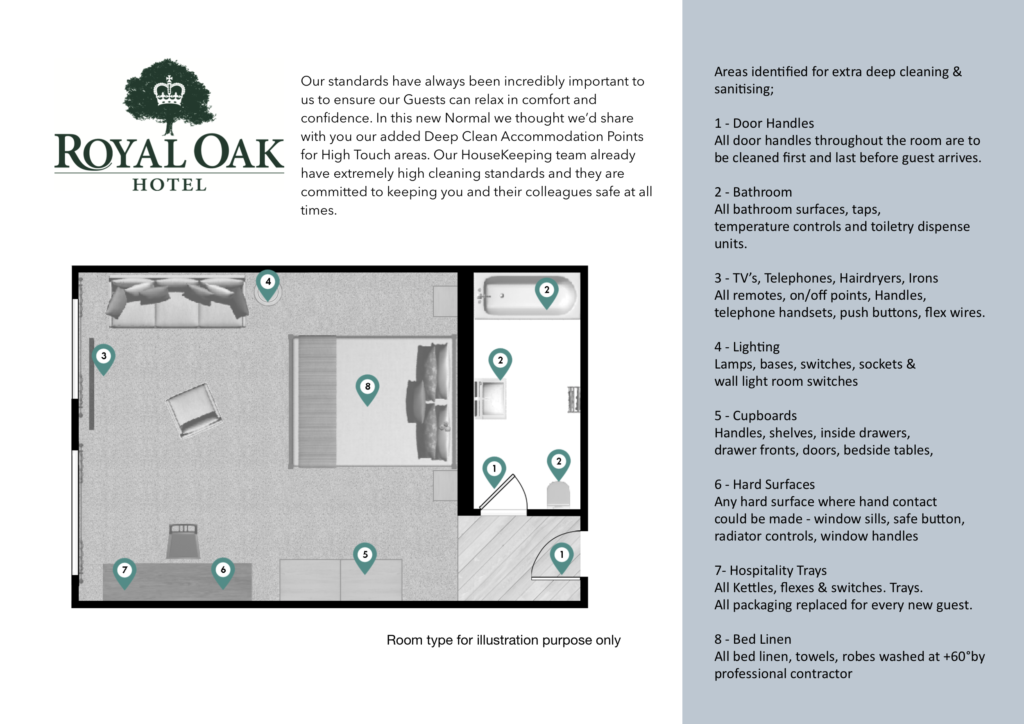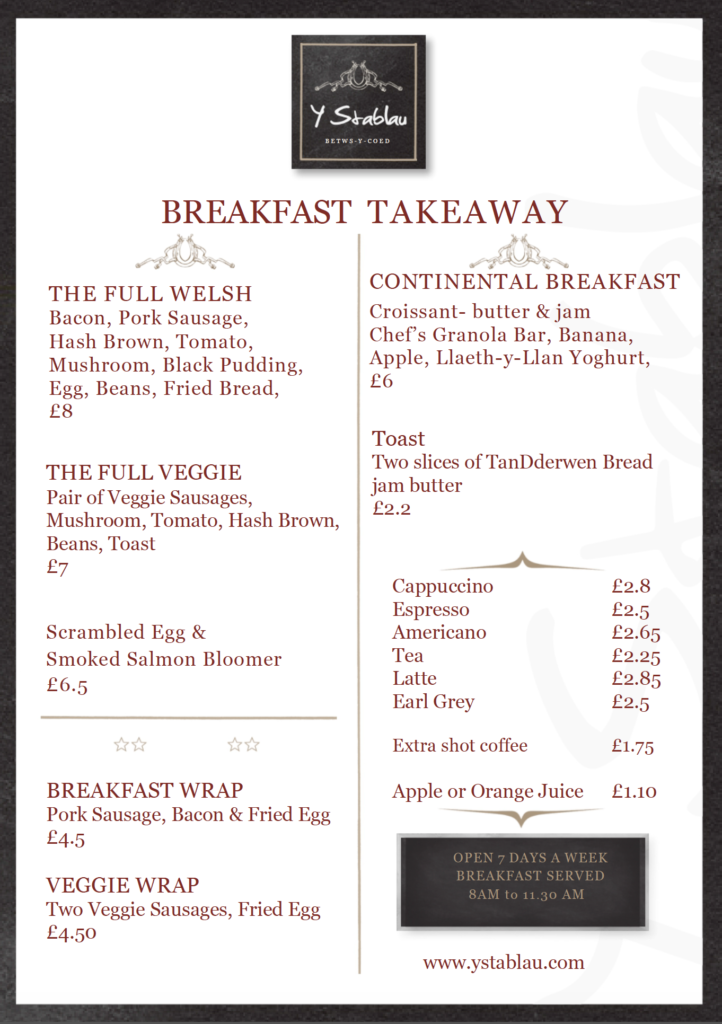 Launching Tuesday 14th July our new Breakfast Offering at Y Stablau