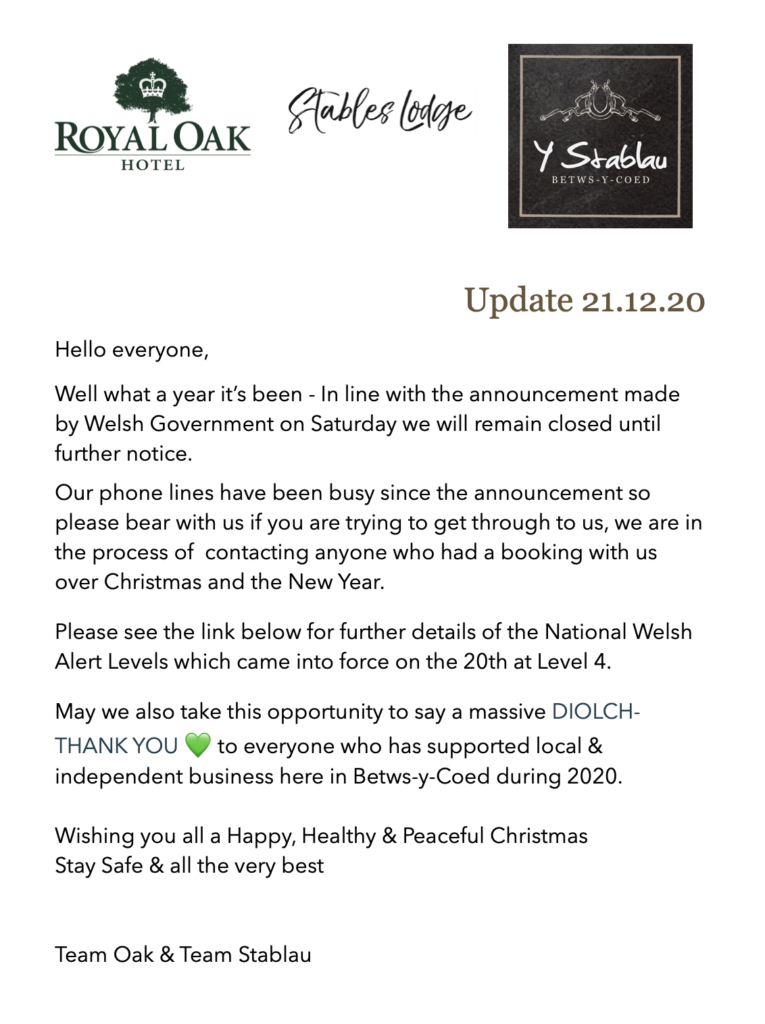 ---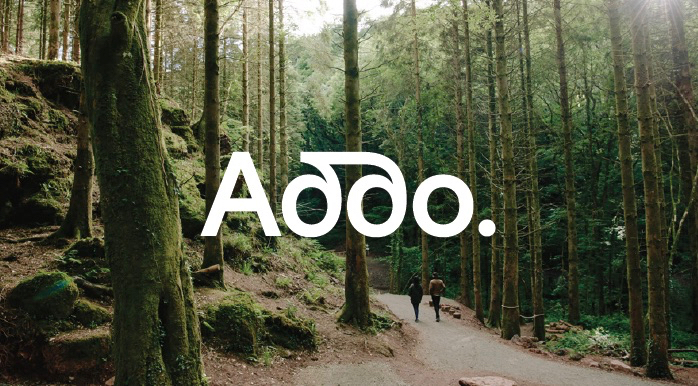 Make your promise to Wales.
Addo means to promise.
2020 has given us the chance to slow down.
To pause. To appreciate this corner of the world that we call home.
It's reminded us of the things we hold dear…
Ein bro a'n byd — our community, and our world.
And now we pledge to look after those things:
To protect the beauty that's around us.
To tell the stories that shape us.
To care for those who live and visit here.
Join the people who have already made their promise — to care for each other and this epic land by making your promise to Wales
addo image credit © Hawlfraint y Goron
---
Re-opening, our team's welfare and your safety
venue opening tImes 5th to 24th December for non-residents
Grill Room 8am to 5pm daily
Lounge 9am -5pm daily
Y Stablau weekends 11am – 6pm – last orders for food 5pm (12-3pm weekdays)
Posh Nosh TakeAway 5-8pm daily
---
FAQ's
When will I be able to stay?
We are taking advance hotel bookings , but please be aware that this is conditional and subject to change by Welsh Assembly Government. If you are from an area which is under an imposed local lockdown or have tier restrictions and have a booking please call us. Please note from 24.12.20 we will be closed for as per the Welsh Governments Lockdown announcement until the end of restrictions.
Our Reservations team will be doing their best to respond to all enquiries as soon as they can, but we do suggest that where possible you make your hotel booking on our online system.
Can I book a Table?
If you're staying with us let us know what time you'd like to eat when you book you room or check in & we'll book a table for you at one of our venues
We are running at a reduced capacity within all our venues in accordance with Welsh Government directives, social distancing rules & capacity restrictions.
For non-residents check availablity and pre-book here or book on arrival if you dont have a determined time
Seating remains at the discretion of the Host team as they maintain a safe working space for us all. The safety of our team and guests are of paramount importance to us so please bear with us if you book on arrival & there is a wait for tables.
Do I need to wear a face covering?
As of 14th September 2020 it became mandatory in Wales that anyone in an indoor public area must wear a face covering, unless exempt or under 11 years of age. This does not apply whilst you are seated at your allocated table but does apply when you get up to leave/use the bathrooms/walk to your room.
Anywhere else open for food?
Yes – Y Stablau is open where we've extended our covered outside terrace area for alfresco dining, we also have limited dining indoors avaialble – don't forget Y Stablau also welcomes your four legged friends 🐕
What else is open?
Attractions in Wales were recently asked to close in line with Welsh Gov Restrictions. Please remember that some activities and attractions will be pre-bookable only when they re-open. We're working on a list of what's open and where, so you can advance book your favoured activity time slot! Whilst attractions in Wales may have been asked to close, our magnificent scenery never stops looking breathtaking…
What should I expect when I visit?
Your arrival experience may look a little different in this new normal, but we hope it will feel the same; ultimately, it will still be our people caring for you and delivering the same attention to detail and personalised hospitality that you are used to at The Royal Oak. We want to reassure you that we have robust measures in place to keep you and our teams safe so that you can confidently enjoy a stay with us. Were taking everyone's temperature before they enter the building and there are sanitisning stations at all entrances to keep you and our teams safe.
What type of changes will I expect to see?
We've implemented one way systems, clear screens at reception areas, non touch entry arrival, information packs can be viewed online, contactless payment systems, app ordering, and temperature checks to name but a few.
What have your team been doing?
We were in regular touch with our team members during lockdowns and firebreaks. Ensuring they are informed and kept up to date with any developments. All team members will have to undertake a Covid Aware Certificate Module accredited by the Institute of Hospitality before returning to the workplace. As well as for your safety, our teams welfare and heightened knowledge is of paramount importance to our business.
How will I know if any changes are made?
As we hear the latest Government directives, we'll update all our pre-arrivals with email communication to provide additional information relating to health and hygiene.
What extra cleaning is taking place?
As a hotel with restaurants, we already operate with strict cleaning and health and safety measures, but we will now be taking extra steps to ensure that all areas are thoroughly sanitised, clean and compliant.
• All team members will be trained in these new standards and timings of cleaning.
• Early Check In wont be available to allow for enhanced cleaning procedures in guest bedrooms.
• We provide hand sanitiser on entry points and at various points through the building.
• We have been awarded the AA's Covid-19 Safe Scheme Certificate
• We have implemented enhanced cleaning in corridors and at all touch points.
• We have issued team members with additional PPE to keep both them and you safe.
What about social distancing?
We love our building being old and quirky but this does cause us a few extra problems to overcome. Luckily we have some very clever Health and Safety minds in our business who have come up with simple effective ideas like mirrors at the end of corridors, non touch corridor lighting and see through clear masks for ease of communication.
We'll ask all our guests to use their common sense and be responsible for their own social distancing during their stay when moving around the hotel. And we'll be looking for additional ideas and listening to any further comments you have during and after your stay.

What if I'm from an area which is in a different tier?
Any guests or future guests must comply with the regulations applicable to their permanent residence. Please check Welsh Government updates for the type of lockdown and travel restrictions in place before travelling to stay with us.